Mauro Cosecha 2014 Vino de la Tierra de Castilla y León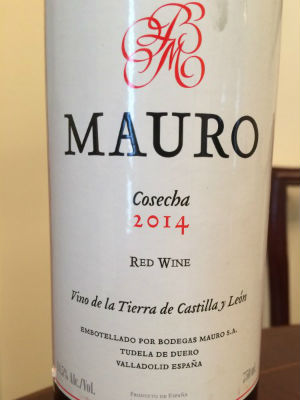 This rich red wine from the Castilla y León region in Spain is made from predominantly Tempranillo grapes with 6% Syrah. I decanted it for 3 hours before serving with the lid on the decanter. After a couple of hours, I removed the lid and smelt the aroma. It was a breath-taking array of dark blackcurrants and vanilla, very soft and intoxicating. The nose had developed an earthiness and I could detect mushroom. In the glass, the colour was an attractive deep ruby and as the wine was swirled it clung to the sides appealingly, as you would expect from a wine that is 14.5% alcohol volume. After three hours of expectation it was time to taste. On the palate, it was an impressive array of black fruit, particularly black cherry, vanilla, a floral note of violet and an herbal note of bay leaf. The length was fabulous with the black cherries and vanilla reminding me of the 1980s and Black Forest gateaux. This dazzling wine had spent 15 months maturing in oak barrels and this is where the vanilla flavour is from. Like many full-bodied red wines it had low acidity and high tannin and so matches well to the weight of flavours and fat in a roast dinner.
I served Mauro Cosecha 2014 with tradition roast lamb, roast potatoes braised in the lamb juices, cabbage, swede, roasted red onions, carrots and marrowfat peas. If I am completely honest, I wouldn't serve carrots next time as they did not match as well with the wine as the other vegetables probably because they are quite sweet. The gravy was made from the meat juices with a generous slug of port and was divine with the wine.
My daughter purchased Mauro Cosecha 2014 from Waitrose Winecellar as a Mother's Day gift for me. She ordered the 2013 vintage which is advertised in the Waitrose Wine, Beer and Spirits List at a price of £32.99, which is the amount that she paid. When we were discussing the vintage as 2014 she mentioned that she had ordered the 2011 vintage. I checked the price of the 2014 vintage for this article but it appears that both vintages are out of stock so prices are not listed. To make matters even more confusing the receipt stated that the vintage was 2013. I checked the price from other stockists and the average price of Mauro 2014 is a lot less than £32.99. I contacted customer service who were brilliant and offered a refund and a replacement.
I love the Tempranillo grape from different regions and have written about a Tempranilla blend Tempranillo, Garnacha Graciano and Mazuelo from La Rioja which matches with beef. You can find it at  https://wonderofwine.com/2017/01/21/featured-content-2
Follow me on Twitter @wonderofwine, Instagram and Facebook-wonderofwine. Email me at wonderofwine@gmail.com