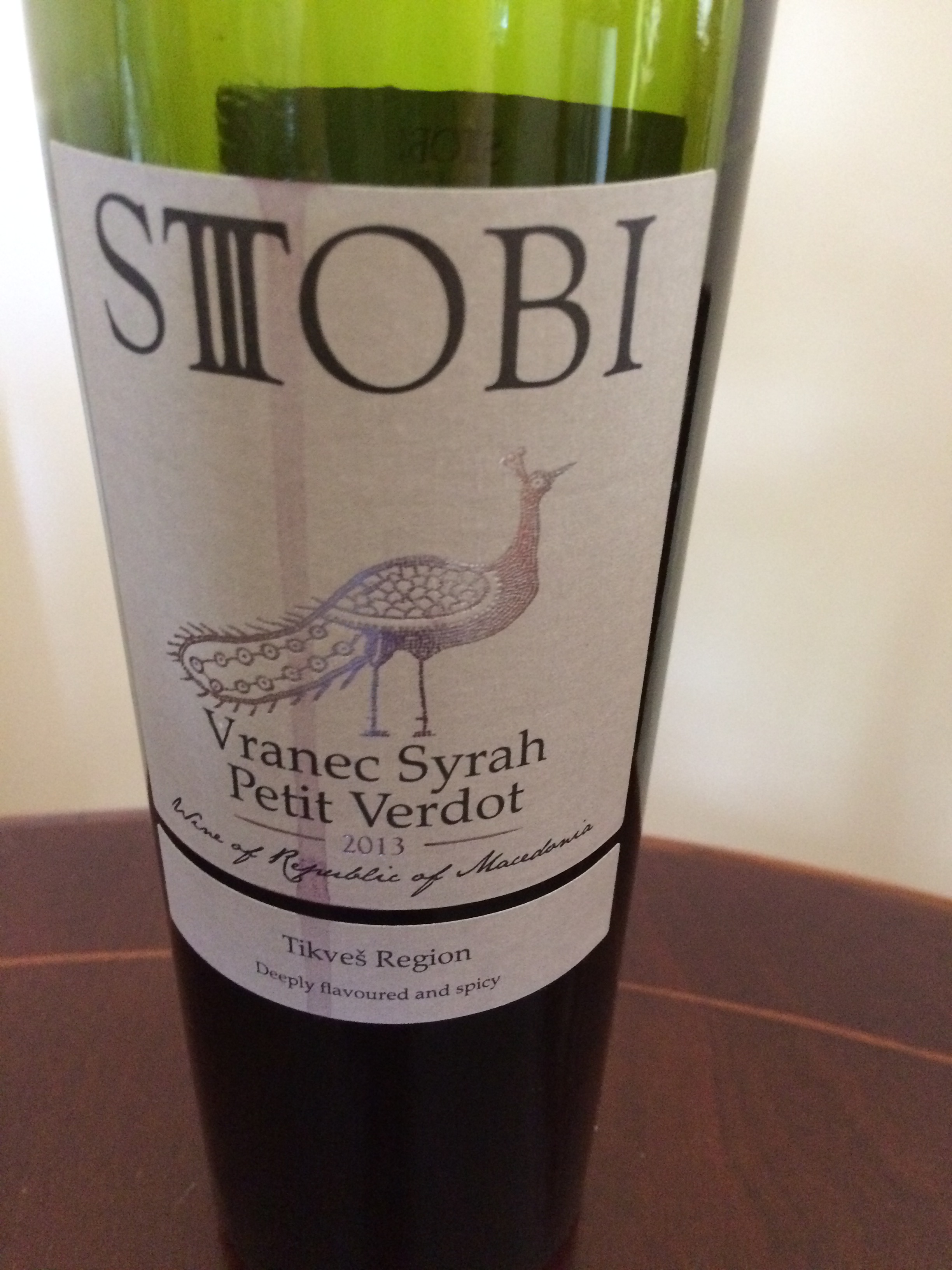 Stobi, Vranec Syrah Petit Verdot
I have just discovered Macedonia as a country that produces wine and it so exciting not only to discover a new wine but also to learn about new grape varieties, Vranec and Petit Verdot. This wine is gorgeous. When you pour it into the glass the dark ruby colour alone is appealing. At 13% it has great legs and as you swirl it in preparation to smell the aromas it clings enticingly to the side of the glass. The nose is elegant and made me salivate in anticipation. The first smell was a beautiful sweet smell and as I swirled and sniffed I was entertained by cherry, slight blueberry, currant and later a hint of violet, to be exact the aroma of the sweets Parma Violets. The first taste was silky smooth, which leads me to believe that this wine has spent some time in oak. Fresh Blueberries and cherries flooded my taste buds and then clove came through on the luxurious spicy finish.  As I began to enjoy the wine a further palate pleaser came through. It was the dark chocolate cherry liqueur from the Black Magic box of chocolates. Sadly, no longer included in Black Magic Selection. This wine has very low acidity, is dry with high tannin and although delicious one glass was enough without food.
As I was unfamiliar with Vranec and Petit Verdot , I researched the traditional dishes of Macedonia to find my first food pairing. I chose traditional Macedonian musaka served with bread and butter. The difference between a Macedonian musaka and Greek moussaka is that the Macedonian musaka has no béchamel sauce and the meat is mostly beef not lamb, although this does vary from region to region. The ingredients for my dish were, minced beef (not lean), aubergines, onion, garlic, a lot of paprika, ripe tomatoes, potatoes and an egg and milk wash which is poured over the potatoes.
This classy wine complimented my rustic dish of choice beautifully. With the food, the silky smoothness returned to the wine. The fat in the mince and the butter on the bread off set the tannin, which cleansed my palate on each mouthful. The tomato, aubergine and the plentiful paprika matched with boldness of the wine and brought out further the blueberry and dark chocolate cherry liqueur. It became a moreish and irresistible accompaniment to the food.
The next day, I drank this stunning Stobi wine with Roast lamb, roast potatoes braised in the juices of the lamb, gravy made from the juices of the lamb, shredded savoy cabbage, broccoli, roasted red onions and swede. The wine was fabulous and stood up to all the flavours magnificently.
Vranec Syrah Petit Verdot would match well with cottage pie, with or without a strong cheese topping such as a mature cheddar or blue cheese.
This Stobi wine was a gift but it is available from Wine Rack and Turton Wines £9.99
Follow me on Twitter @wonderofwine, Instagram and Facebook wonderofwine. Email me at wonderofwine@gmail.com